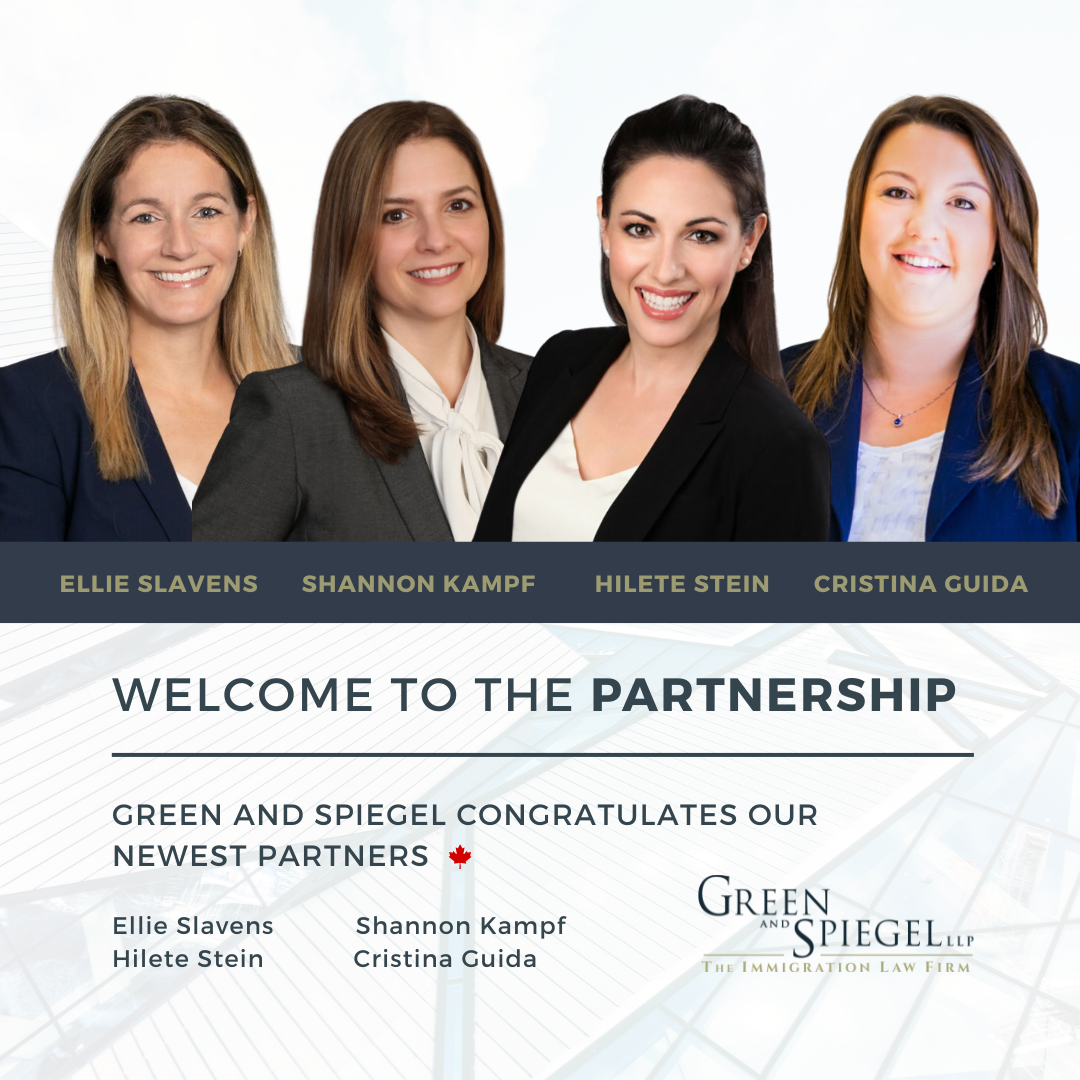 Green and Spiegel is excited to start the new year by celebrating the admission of four new partners effective January 1st, 2023. Our new partners have distinguished themselves as thought leaders in immigration, positively impacting our clients and colleagues and fully demonstrating the firm's values. Through years of dedication, they have individually inspired those around them, showing a high commitment in supporting and mentoring those in need. It is with great pride that we announce Ellie Slavens, Shannon Kampf, Cristina Guida and Hilete Stein as Partners.
Ellie joined the firm in 2015 starting as a senior associate and later became Labour Market Impact Assessment (LMIA) Practice Director in 2021. Her practice covers all areas of Canadian immigration law including applications for temporary work permits, study permits, visitor visas, as well as applications for Permanent Residence through the Express Entry and Provincial Nominee Programs. Her years in immigration have made her highly experienced in Labour Market Impact Assessment applications, Compliance Reviews under the Temporary Foreign Worker Program, and Inspections under the International Mobility Program. She is also able to assist clients in overcoming criminal and medical inadmissibility issues through applications for temporary resident permits and criminal rehabilitation.
Shannon has been working exclusively in the field of Canadian immigration and citizenship law for 15 years and has spent 9 years of her practice at Green and Spiegel LLP. She focuses on assisting corporate clients to strategize on temporary residence, permanent residence, and citizenship for their employees. She has represented clients in all industries including information technology, engineering, oil & gas, retail, manufacturing, finance, insurance, and forestry. Shannon also handles Quebec based immigration matters and regularly provides service to our clients in French.
Cristina advises clients in all aspects of Canadian Immigration and citizenship matters. Her practice focuses on facilitating the entry of personnel into Canada for a variety of multi-national corporations and small businesses. Her knowledge on corporate immigration to Canada is highly sought out as she has been a keynote speaker, host and panelist for multiple global presentations and an Adjunct Instructor with Queen's University Faculty of Law- Graduate Diploma in Immigration and Citizenship Law. Considered a subject matter expert in the field of corporate immigration, Cristina has also been quoted by various media outlets, including USA Today and OMNI news. Prior to joining Green and Spiegel LLP, Cristina worked for the immigration enforcement branch of the Canada Border Services Agency (CBSA) for five years. Her unique experience allowed her to successfully advocate for her clients in various enforcement and litigation matters, such as temporary resident permit (TRP) and criminal rehabilitation applications, inadmissibility and detention review hearings, appeals before the Immigration Appeal Division and litigation matters before the Federal Court of Canada.
Hilete is a senior immigration lawyer and Green and Spiegel's Permanent Residence Practice Director. With over 13 years of experience exclusively practicing Canadian immigration and citizenship law, she was recognized as a leading lawyer to watch by the Canadian Legal Lexpert Directory in 2021. Hilete has extensive experience representing both corporate and individual clients in all areas of Canadian immigration law, with specific expertise in economic immigration via the Express Entry system, provincial nominee streams, and self-employed streams. Hilete also has a great deal of litigation experience, and has been counsel in several notable reported decisions by the Immigration and Refugee Board and the Federal Court.