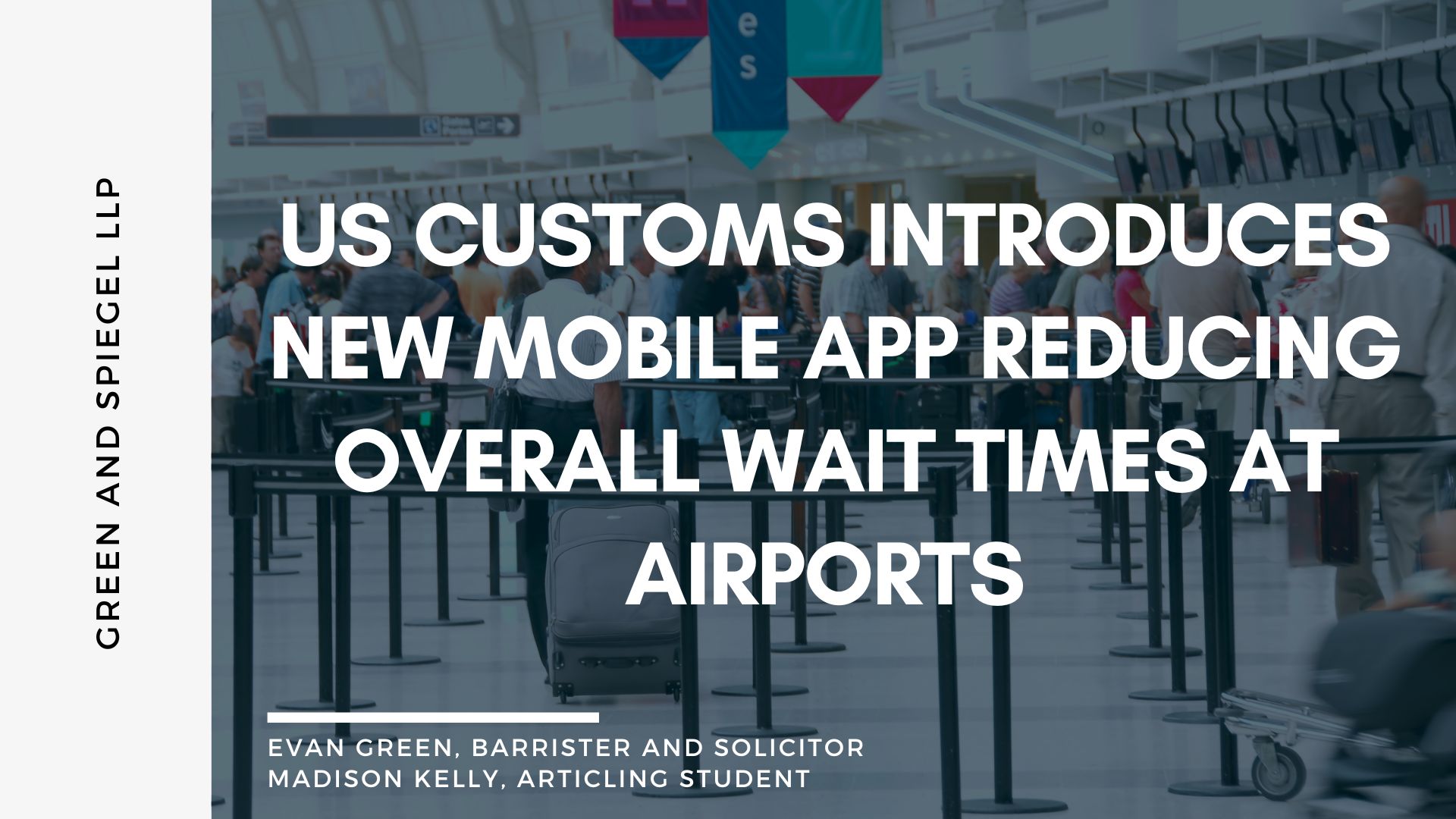 U.S. Customs and Border Protection (CBP) have introduced a mobile application to allow eligible travelers to submit their passport and customs declaration information on their mobile device. This application streamlines the traveler's entry process into the United States by reducing passport control inspection time, thus reducing overall airport wait times. The Mobile Passport Control (MPC) App is currently available to U.S. citizens and Canadian B1/B2 citizen visitors. As of August 30th, the MPC app is available for use at Toronto and Montreal Preclearance. Vancouver Preclearance will be available for use on September 19th, 2022.
Canadian passport holders visiting the United States for tourism and business visitor purposes, will be eligible to utilize the mobile app at 38 sites, including 31 U.S. International Airports, 3 Canadian Preclearance locations, and 4 seaports of entry.
How Does it Work?
You can download the MPC Application from the Apple App Store and Google Play Store on your smartphone. Eligible travelers can create a profile that includes their passport information, name, gender, date of birth, and country of citizenship. Travelers can then select their arrival airport or seaport and terminal, take a self-photo, and answer a series of CBP inspection-related questions. Once the information is submitted in the app, the traveler will receive a QR code. Travelers using the MPC app will be directed to a specific processing lane for a streamlined entry process. They can then present their physical passport and the mobile device with the QR code receipt to a CBP officer to finalize their entry into the United States. Travelers who successfully use the MPC app will no longer have to complete a paper form or use an APC kiosk.
Travelling with a Family?
The MPC app allows for up to twelve profiles (individuals) to be created for family members. Similar to the APC Kiosk and Forms, you can add your family members from a single household in one transaction to present to the CBP officer with one QR code. All family members are required to answer CBP inspection-related questions.
What Are the 38 MPC App Approved Sites?
Baltimore/Washington International Thurgood Marshall Airport (BWI)
Boston Logan International Airport (BOS)
Chicago O'Hare International Airport (ORD)
Dallas/Fort Worth International Airport (DFW)
Daniel K. Inouye International Airport (HNL)
Dulles International Airport (IAD)
Denver International Airport (DEN)
Fort Lauderdale-Hollywood International Airport (FLL)
Hartsfield-Jackson Atlanta International Airport (ATL)
Houston George Bush Intercontinental Airport (IAH)
William P. Hobby Houston International Airport (HOU)
Kansas City International Airport (MCI)
Los Angeles International Airport (LAX)
Miami International Airport (MIA)
Miami Seaport
Minneapolis-Saint Paul International Airport (MSP)
Montreal Trudeau International Airport (YUL)
John F. Kennedy International Airport (JFK)
Newark Liberty International Airport (EWR)
Oakland International Airport (OAK)
Orlando International Airport (MCO)
Palm Beach Seaport
Philadelphia International Airport (PHL)
Phoenix Sky Harbor International Airport (PHX)
Pittsburgh International Airport (PIT)
Port Everglades Seaport
Portland International Airport (PDX)
Sacramento International Airport (SMF)
San Diego International Airport (SAN)
San Francisco International Airport (SFO)
San Jose International Airport (SJC)
San Juan Airport (SJU)
San Juan Seaport
Salt Lake City International Airport (SLC)
Seattle-Tacoma International Airport (SEA)
Tampa International Airport (TPA)
Toronto Pearson International Airport (YYZ)
Vancouver International Airport (YVR)