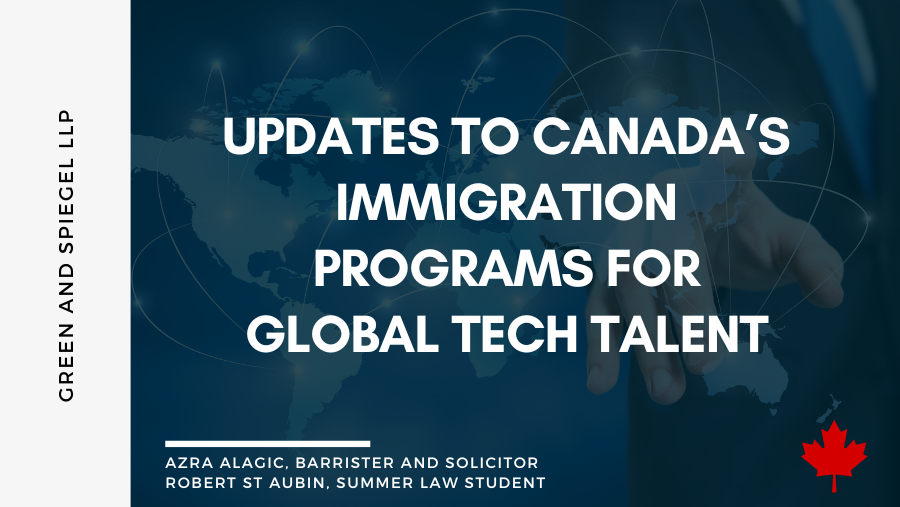 Important news for employers in Canada's tech industry: The Government of Canada has just launched Canada's first-ever Tech Talent Strategy.
This Strategy will help Canada's tech industry fill in-demand jobs with global talent, while also ensuring the industry has the skilled workforce needed to create the innovative jobs of tomorrow. The Strategy has four key pillars:
H-1B Visa Open Work Permit
IRCC has also created a new three-year open work permit for United States H-1B specialty occupation visa holders, along with study and work permit options for their accompanying immediate family members. H-1B visa holders will be able to apply for this work permit as of July 16th, 2023, though this measure will only run for one year, or until IRCC receives 10,000 applications from principal applicants.
Green and Spiegel's Evan Green, Managing Partner of the Toronto office, and Jonathan Grode, US Practice Director and Managing Partner will be hosting a webinar on July 12, 2023, for those who are eligible for H-1B visa and their options for immigration to Canada. More information and how to register can be found here.
The International Mobility Program's New Innovation Stream
Immigration, Refugees and Citizenship Canada (IRCC) plans to create a new Innovation Stream under the International Mobility Program to address persistent labour shortages in Canada's tech industry. IRCC is considering two types of work permits under this stream: (1) Employer-specific work permits that can last up to five years for workers who work with companies identified as contributing to Canada's industrial innovation goals, and (2) Open-work permits that can last up to five-years for highly skilled workers in certain in-demand occupations. The Innovation Stream is slated to launch by the end of 2023.
Improvements to Existing Programs, Including the Start-up Visa Program
IRCC will also improve existing immigration programs already used by the tech industry to recruit foreign talent. This includes allowing applicants under the Start-up Visa Program to apply for three-year open work permits, rather than the current one-year work permit tied to their start-up business. This work permit will also be available to each member of the start-up's entrepreneurial team, rather than only essential members.
Other important changes to the Start-Up Visa program include increasing the number of spots in the program for 2024 and 2025 and prioritizing applications supported by committed capital or endorsed by a business incubator that is a member of Canada's Tech Network.
To learn more about Canada's Start-Up Visa Program, Green and Spiegel and Pycap will be hosting a webinar on July 27, 2023. More information and how to register can be found here.
Attracting Digital Nomads
IRCC plans to work with public and private stakeholders to determine if Canada needs new policies to attract and retain digital nomads. Digital nomads are remote workers who can work for their employer from anywhere in the world. Digital nomads can currently enter Canada for up to six months at a time on a visitor visa while working for their foreign employer.
The Tech Talent Strategy offers employers in Canada's tech industry more opportunities to attract and hire top global talent. If you are interested in accessing any of the Strategy's newly announced programs or measures, our firm has experienced team members who can help. Please contact us for more information and to schedule a consultation.