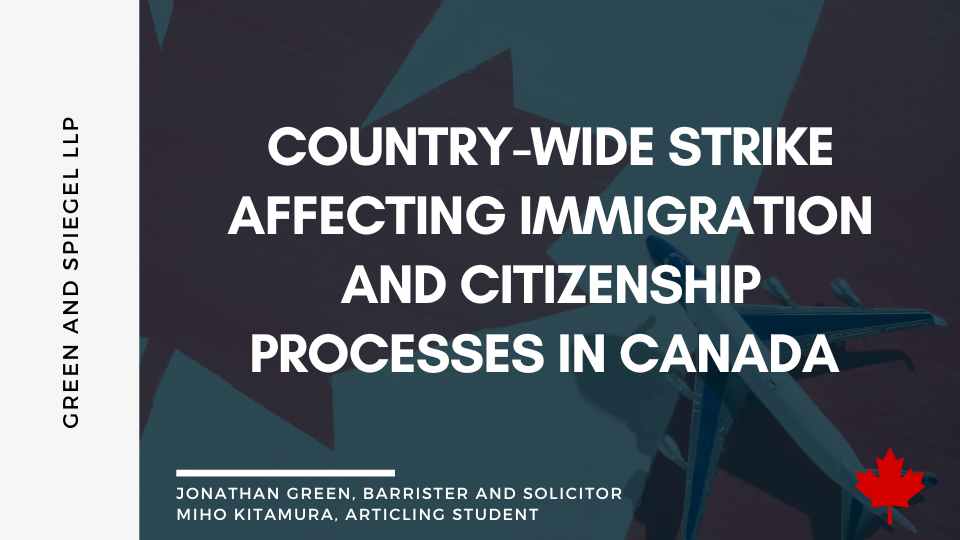 More than 155,000 federal public service workers across the country are on strike after the federal government and their union representatives (the Public Service Alliance of Canada (PSAC)) were not able to reach an agreement. After being without a contract for nearly two years, PSAC members are striking for better wages to keep up with inflation. PSAC is one of Canada's largest unions, and represents workers from nearly 30 federal government departments and agencies, Crown Corporations, and universities, among others.
Nearly one-third of all federal public service workers are on strike, and picket lines have been set up at more than 250 locations across the country. PSAC has announced that they will remain on strike until key issues have been addressed during negotiations. Importantly, essential services will be maintained during the strike.
Immigration and citizenship processes are currently affected due to the strike, and delays and disruptions are to be expected, which can include:
Hearings before the Immigration and Refugee Board of Canada;
Access to Information Act requests;
Citizenship events (including citizenship ceremonies);
Some citizenship and passport services outside of Canada;
IRCC client support centre and webform response times;
In-Canada immigration-related appointments (such as interviews);
Domestic passport services;
Immigration application processing times including:

Work permit applications submitted within Canada;
Study permit applications submitted within Canada;
Permanent residence applications; and
Permanent resident card renewal services.

Employment and Social Development Canada (Service Canada) LMIA applications; and
Biometrics collection.
If you have already submitted an application, your application will remain and queue and will be processed subject to these delays. Applications can still be submitted, and urgent appointments can be scheduled based on exigent circumstances.
Updates regarding the labour disruptions will be posted here for Immigration, Refugees, and Citizenship Canada, here for the Immigration and Refugee Board of Canada, and here for Employment and Social Development Canada. Should you have any questions about your application, please contact our office.