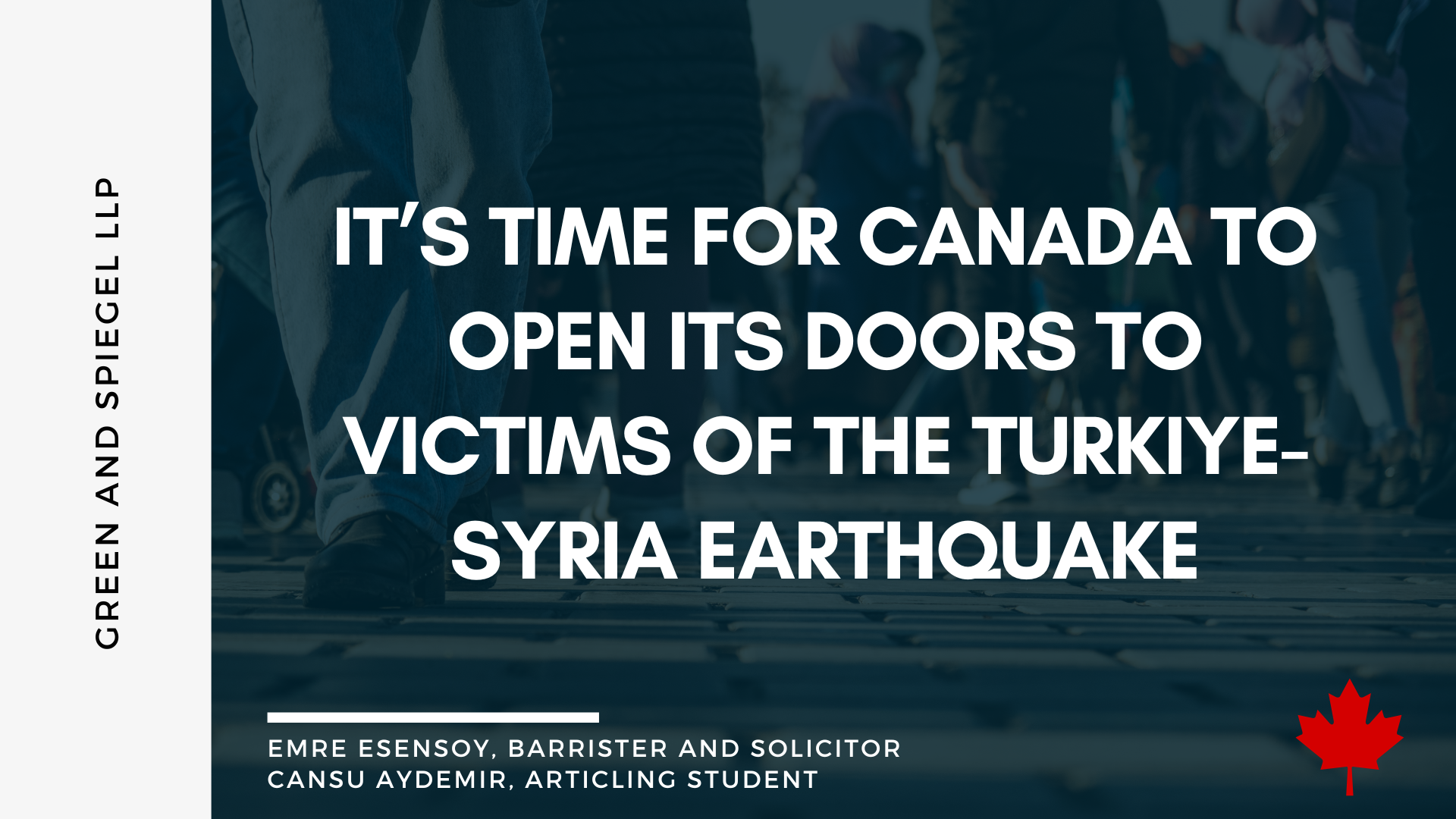 As the global community mobilizes to come to the aid of those affected by the earthquake that devastated parts of Turkiye and Syria, Canada can play an important role, including implementing special immigration measures to help the victims find safety.
On February 6, 2023, two major earthquakes with a magnitude of 7.8 and 7.5 struck southeastern Turkiye and northwestern Syria. At the time of writing, the combined death toll has surpassed 47,000 and is expected to rise as rescue crews are stretched thin and facing logistical barriers. In the devastating aftermath of the disaster, hundreds of thousands of people are displaced and struggling with freezing temperatures without adequate shelter, food, or water. With countless collapsed buildings and decimated infrastructure, the catastrophic effects of the earthquakes will be long-lasting.
International relief efforts are underway. For its part, the Canadian government has pledged to donate $10 million, and to match donations made to the Canadian Red Cross' Earthquake in Turkiye and Syria Appeal, also up to $10 million. However, as a country with a history of welcoming victims of humanitarian crises, Canada can – and should do more and should do it quicker.
Canada's immigration system does not have a routine program to facilitate visas for victims of natural disasters. However, the Immigration and Refugee Protection Act allows the Minister to grant exemptions from any applicable criteria or obligations under the Act if it is justified by public policy considerations. Such considerations are often referred to as "humanitarian and compassionate grounds." In other words, the law permits the Canadian government to implement special immigration measures to help those affected by the earthquake in Turkiye and Syria reach safe harbour.
Canada has shown that it has several tools in its immigration toolkit to provide humanitarian and compassionate relief to those in need. For example, the government may expedite existing temporary and permanent residence applications from Turkiye and Syria. It may also create an emergency travel program, such that an opportunity is provided for people to leave the affected areas as quickly as possible and remain in Canada until it is safe to return, similar to the program for the humanitarian crisis in Ukraine. The program may allow Turkish and Syrian nationals already in Canada as temporary residents to extend their statuses based on the humanitarian crisis. Canada can also temporarily defer removals to Turkiye (there is already a deferral of removals to Syria in place).
Another special measure may be to expand the definition of "family member" for earthquake victims to include siblings, aunts, uncles, nieces, and nephews and facilitate their reunification with their relatives in Canada through temporary visas or sponsorship for permanent residence. This was the approach taken when Canada put in place a public policy facilitating permanent residence applications for in-Canada families of the victims of air disasters involving Ethiopian Airlines Flight 302 and Ukraine International Airlines Flight 752. There are nearly 100,000 Canadians of Syrian descent living in Canada, and over 35,000 Turkish Canadians, according to the 2021 census. As such, there is a significant community of Canadians who are concerned for the safety of their loved ones in the earthquake zone.
Traditionally, Canada has been a leader in providing immigration supports to populations affected by natural disasters. As part of its humanitarian response to the 2004 tsunami in the Indian Ocean, for example, Canada expedited the processing of applications for those with close family members in Canada and waived processing fees for applicants personally and seriously affected by the disaster, issuing over 300 permanent resident visas. In 2010, Canada gave priority to sponsorship applications from Canadians who have close family members directly and significantly affected by the earthquake in Haiti. Similar facilitative measures were put in place for those significantly and personally affected by Typhoon Haiyan that hit the Philippines in 2013 and the 2015 earthquake in Nepal.
The February 6, 2023 earthquakes in Turkiye and Syria were the deadliest and most destructive natural disasters that the region has experienced in recent memory. The destruction and trauma caused by the disaster will have a lasting impact, but there are ways to ease the pain and hardship. As the world assists with the efforts to rescue and care for survivors, Canada can contribute with its robust immigration system and help many of them find safety and security and reunite with their families.
If you have any questions about immigration as a natural disaster victim, please contact us to schedule a consultation.