Express Entry Draw #264 – September 20th, 2023
On September 20th, 2023, Immigration, Refugees and Citizenship Canada (IRCC) held its first category-based selection in the Express Entry system for transport occupations. In today's draw, 1,000 invitations to apply (ITAs) were issued to candidates with a minimum Comprehensive Ranking System (CRS) score of 435 or higher, and experience in the transport occupations category.
In order to be eligible for the transport occupations category, you must have accumulated, within the past 3 years, at least 6 months of full-time, continuous work experience (or an equal amount of part-time work experience) in an identified transport occupation in Canada or abroad. Eligible occupations include aircraft assemblers, transport truck drivers, railway, marine, and air traffic controllers, air pilots and flight engineers, aircraft mechanics, and managers in transportation. A full list of the eligible occupations can be found here.
IRCC applied its tie-breaking rule with the timestamp of June 17, 2023 at 06:44:01 UTC, meaning candidates with a score of 435 were invited to apply if they had submitted their Express Entry profile before the timestamp.
If you have any questions about Express Entry, Permanent Residency, or other Canadian immigration programs, please contact us to schedule a consultation.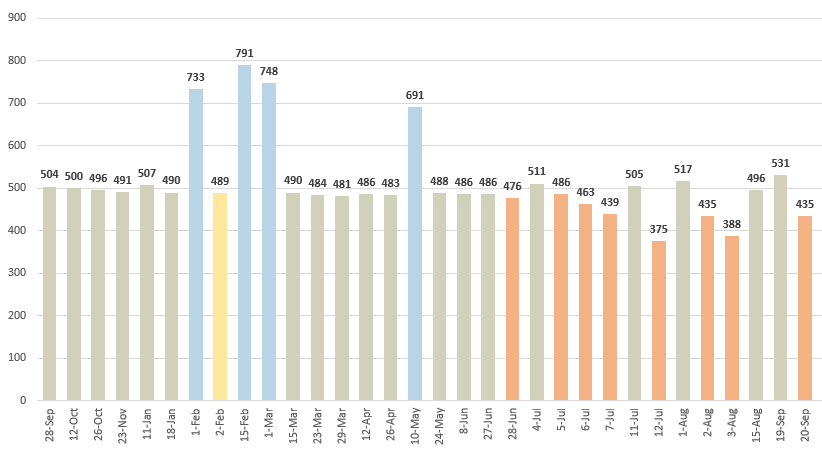 Express Entry Draws: 2023
| | | | | |
| --- | --- | --- | --- | --- |
| # | Date | Round type | Invitations issued | CRS score of lowest-ranked candidate invited |
| 264 | 20-Sept-23 | Transport occupations (2023-1) | 1,000 | 435 |
| 263 | 19-Sept-23 | No Program Specified | 3,200 | 531 |
| 262 | 15-Aug-23 | No Program Specified | 4,300 | 496 |
| 261 | 3-Aug-23 | Trade occupations (2023-1) | 1,500 | 388 |
| 260 | 2-Aug-23 | French language proficiency (2023-1) | 800 | 435 |
| 259 | 1-Aug-23 | No Program Specified | 2,000 | 517 |
| 258 | 12-Jul-23 | French language proficiency (2023-1) | 3,800 | 375 |
| 257 | 11-Jul-23 | No Program Specified | 800 | 505 |
| 256 | 7-Jul-23 | French language proficiency (2023-1) | 2,300 | 439 |
| 255 | 6-Jul-23 | Healthcare occupations (2023-1) | 1,500 | 463 |
| 254 | 5-Jul-23 | STEM occupations (2023-1) | 500 | 486 |
| 253 | 4-Jul-23 | No Program Specified | 700 | 511 |
| 252 | 28-Jun-23 | Healthcare occupations (2023-1) | 500 | 476 |
| 251 | 27-Jun-23 | No Program Specified | 4,300 | 486 |
| 250 | 8-Jun-23 | No Program Specified | 4,800 | 486 |
| 249 | 24-May-23 | No Program Specified | 4,800 | 488 |
| 248 | 10-May-23 | Provincial Nominee Program | 589 | 691 |
| 247 | 26-Apr-23 | No Program Specified | 3,500 | 483 |
| 246 | 12-Apr-23 | No Program Specified | 3,500 | 486 |
| 245 | 29-Mar-23 | No Program Specified | 7,000 | 481 |
| 244 | 23-Mar-23 | No Program Specified | 7,000 | 484 |
| 243 | 15-Mar-23 | No Program Specified | 7,000 | 490 |
| 242 | 1-Mar-23 | Provincial Nominee Program | 667 | 748 |
| 241 | 15-Feb-23 | Provincial Nominee Program | 699 | 791 |
| 240 | 2-Feb-23 | Federal Skilled Worker | 3,300 | 489 |
| 239 | 1-Feb-23 | Provincial Nominee Program | 893 | 733 |
| 238 | 18-Jan-23 | No Program Specified | 5,500 | 490 |
| 237 | 11-Jan-23 | No Program Specified | 5,500 | 507 |
| 236 | 23-Nov-22 | No Program Specified | 4,750 | 491 |
| 235 | 9-Nov-22 | No Program Specified | 4,750 | 494 |
| 234 | 26-Oct-22 | No Program Specified | 4,750 | 496 |
| 233 | 12-Oct-22 | No Program Specified | 4,250 | 500 |
| 232 | 28-Sep-22 | No Program Specified | 3,750 | 504 |