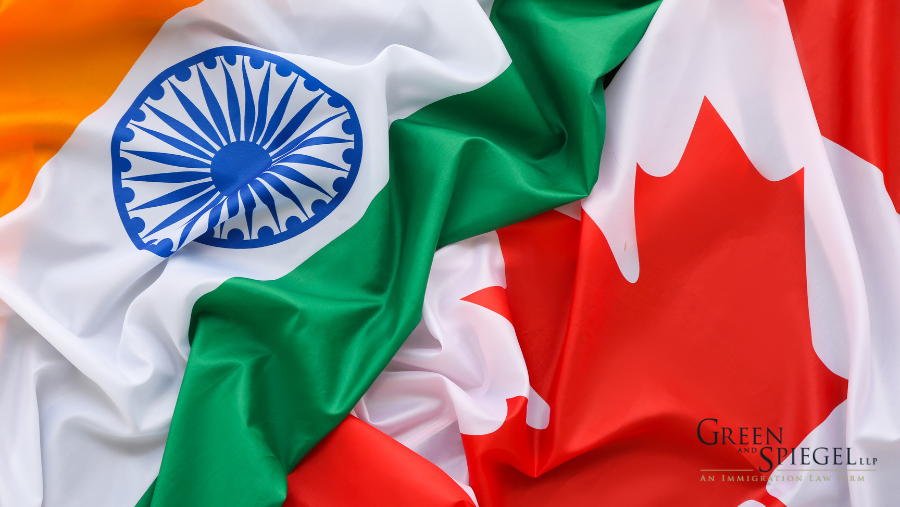 On October 20th, 2023, Green and Spiegel's Michael Hughes took detailed notes from Deputy Minister of Immigration, Refugees and Citizenship Canada (IRCC) Christiane Fox's presentation regarding Canada-India relations and impacts on immigration processing. Here is what Hughes had to report:
Services in India
As of today, 41 Canadian diplomats have been removed from India as they no longer have diplomatic immunity.
Core services will continue to be provided in New Delhi:

Consular services to Canadians
Commercial program (export assistance for Canadian businesses)
Immigration program will be "severely curtailed"
Immigration Consequences
27 IRCC employees were previously in India – 22 have now left. There are only 5 left in India to focus on urgent cases that requires in person presence.
10 staff have moved to Manila, 12 have returned to Canada.
Certain activities can only be processed in country, however 89% of all immigration applications are already processed outside of India. Processing applications from India will continue and be dispersed across global network of IRCC.
Remaining staff in India will focus on urgent processing, overseeing key partners (panel physicians and Visa Application Centres), visa printing.
There will be delays on applications. From October to December, it is anticipated that the reduction will lead to 17.5k backlog of decisions. The hope is to return to normal processing by early 2024.

Reason for delay, the people who have been moved out of India need time to set up in new location. Also, operations in India were supported by 140 local staff – logistics around this need to be figured out.
Submitting Applications
Applicants can continue to submit biometrics and provide passports in India.
In 2022 – India was top source country for permanent residence applications (27%) and temporary foreign workers (22%). India remains important to Canada's immigration strategy.
For international student applications – expect a delay of about 1 week to standard processing times.
In general, the hope is that there will be minimal delays to the processing of all application types (days to 1-2 weeks).

We will have to wait and see!
If you have any questions about Canadian Immigration Processing from India or need assistance, please contact us.