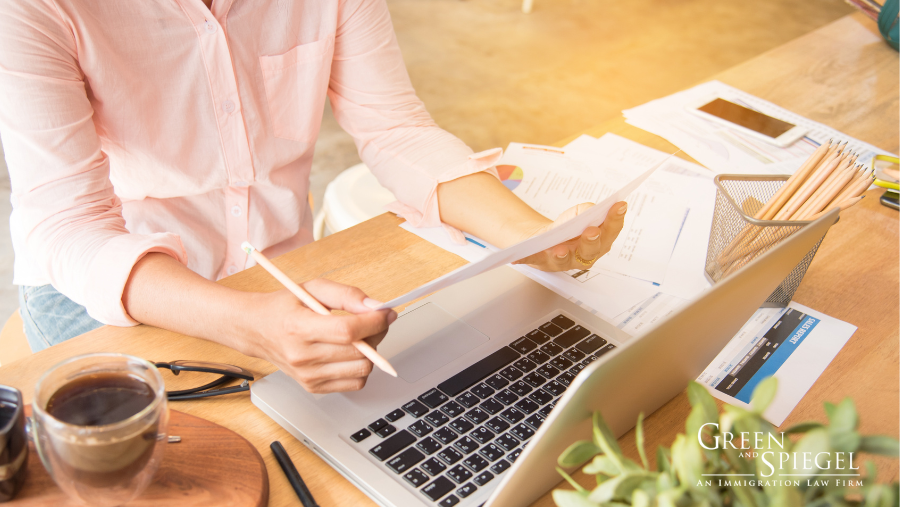 There is a range in complexity of Canadian work permit applications, but there are simple things that can be done to strengthen any application. Here are 5 tips to ensure a work permit application is approved:
1. Submit all Required Documents and Forms
Immigration, Refugees and Citizenship Canada (IRCC) document checklists provide a list of forms and documents that are required to submit along with a work permit application. Required documents can include, but are not limited to, the relevant application forms, up-to-date passports or travel documents, digital photographs, proof of available funds, and proof that an employee meets the requirements of the job being offered.
In almost all cases, it is important that an employee has a valid passport or travel document with a reasonable validity period so that when the work permit application is approved, it will be valid until the expiration date on the passport or travel document. If the passport expires prior to the validity date of the work permit, the length of the work permit will be tied to the passport expiry date.
Did you know there are different required document checklists depending on the employee's country of origin and the type of work permit? It is important to follow both the generic document checklist and the country-specific checklist. Paying close mind to this fact when applying will ensure that you have not left any required items out of your application which would result in unnecessary delays.
2. Identify the Type of Work Permit you Need
Before applying for a work permit, it is important to identify the type of work permit that is required based on the type of job, as well as the credentials and work experience of the employee. In some instances, an employee may be eligible for a work permit based on a trade agreement. For example, if the employee is American or Mexican, the United States-Mexico-Canada Agreement may provide an efficient way of obtaining a Canadian work permit. In other instances, where an employee has worked for a company outside of Canada and is being transferred to Canada, an intracompany transfer may be the way to proceed. The International Experience Canada work permit and the Francophone Mobility work permit may be other very good options to hire a foreign worker in Canada. In other cases, a Canadian employer may need to apply for a Labour Market Impact Assessment (LMIA) based work permit.
3. Show that the Employee has Enough Funds to Support their Stay
Evidence will need to be provided to show that the employee has enough funds to support themselves while living and working in Canada.  The following items should be included in the application:
3 months of bank statements;
3 recent pay slips; and
a recent letter from the employer confirming employment and salary.
4. Disclosing Previous Refusals and Other Inadmissibility Issues
In completing a work permit application, the employee will need to answer whether they have previously been refused any immigration applications. It is critical that the employee disclose all details regarding any past refusal, even if the details regarding the refusal, such as the date of the refusal, are known. Failure to disclose any previous refusal of any type of immigration application can lead to a further refusal based on misrepresentation, whether it is intentional or not. A refusal based on misrepresentation is a serious determination and can result in a bar to entering Canada.
If an employee is criminally inadmissible to Canada (or any other countries), whether they were charged, convicted, or under investigation for a crime, they must disclose this in their application. In many cases, a criminal inadmissibility to enter Canada can be overcome by an application for a Temporary Resident Permit and may not be a bar to entering Canada. It is also important that an employee is not medically inadmissible when applying for a work permit, that is, they do not have any illnesses that would create a burden on the Canadian healthcare system. Medical inadmissibility issues may be overcome with a note from a doctor, obtaining health insurance that coincides with your travel to Canada, or providing an upfront medical exam from an IRCC designated panel physician's office.
5. An Employee Should not Undertake Unauthorized Work
This is basic Canadian Immigration 101: if your employee does not have a valid Canadian work permit, they cannot work. If a foreign national performs unauthorized work serious consequences can occur, such as orders with respect to inadmissibility which can result in a Removal Order and potentially prohibition from re-applying and re-entering Canada for any reason in the future.
If you have any questions or need assistance with a Canadian work permit application, please contact us.