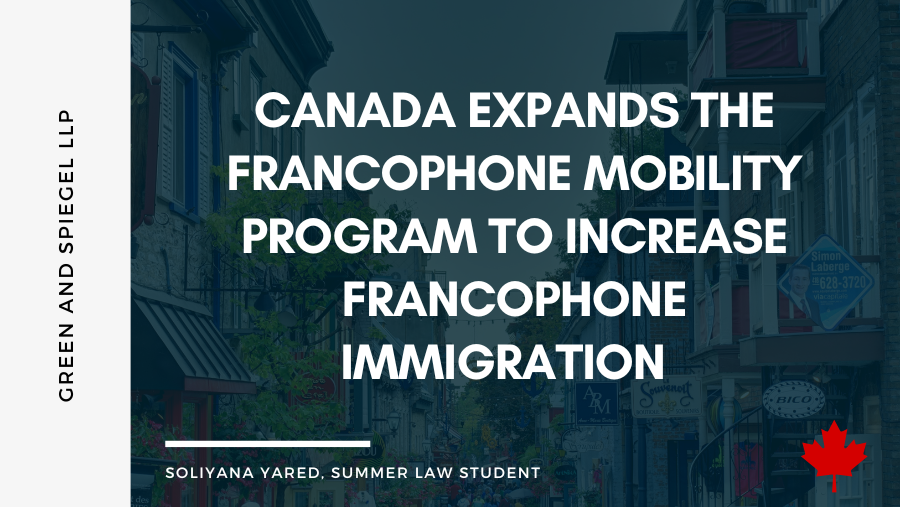 On June 15, the Minister of Immigration, Refugees and Citizenship, the Honourable Sean Fraser, announced the expansion of the Francophone Mobility Program which was created to allow a Canadian employer to make a job offer to an eligible candidate with a moderate command of French for all National Occupation Classification (NOC) apart from jobs in primary agriculture. The expansion is currently set to last for a period of two years and is said to open doors to more French-speaking immigrants by offering them the opportunity to gain Canadian work experience and potentially qualify for permanent residence. The main updates to the program are as follows:
The temporary foreign national must have a moderate language proficiency of French for oral comprehension and oral expression. This is equivalent to a level 5 of the language requirements.
Applicants must now provide proof that they meet these language requirements. This documentary evidence may be but is not limited to: a French evaluation test or French competencies test, a diploma or degree from a French college or university, or a document confirming studies at a French-language institution.
It is hoped that these new language requirements will expand the pool of eligible French-speaking foreign nationals. If you believe that you would be eligible for the Francophone Mobility Program under the new updates, please feel free to contact us.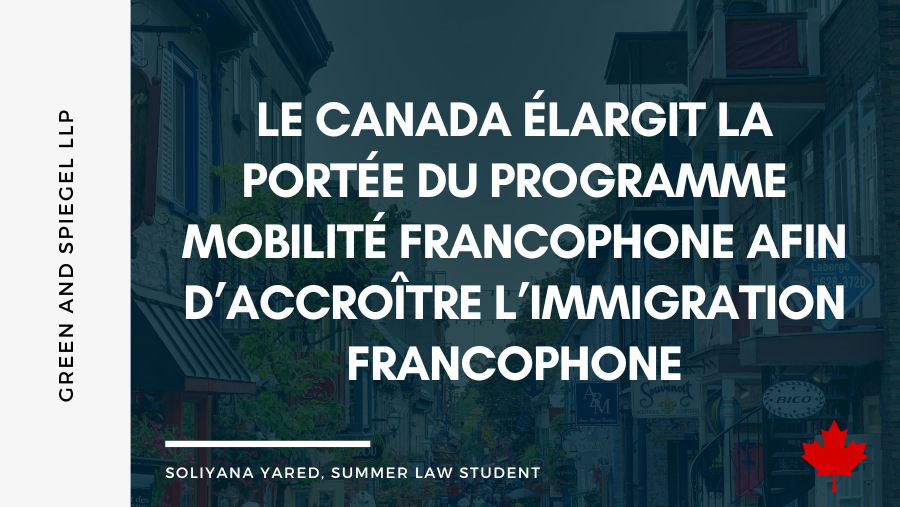 Le 15 juin, l'honorable Sean Fraser, le ministre d'Immigration, Réfugiés et Citoyenneté, a annoncé l'expansion du programme Mobilité francophone, ce qui était créé pour permettre à un employeur canadien de faire une offre d'embauche a une personne admissible ayant une maîtrise modérée de la langue française pour toute la Classification nationale de profession (CNP) à l'exception des emplois en agriculture primaire. L'expansion devrait durée actuellement deux ans et elle ouvre les portes à un plus grand nombre de personnes immigrantes francophones en leur offrant l'occasion d'acquérir de l'expérience de travail au Canada et de se qualifier éventuellement pour le résidence permanente. Les modifications principales du programme sont les suivants :
Le travailleur étranger temporaire doit avoir une maîtrise modérée du français pour la compréhension et l'expression orales. Cela équivaut au niveau 5 des exigences linguistiques.
Les personnes qui présentent une demande doivent fournir une preuve qu'ils répondent aux exigences linguistiques. Cette preuve peut être, par exemple, les résultats au Test d'évaluation de français ou au Test de connaissance du français, un diplôme ou grade d'un collège ou d'une université francophone, ou un document qui confirme des études dans un établissement francophone.
On espère que ces exigences linguistiques élargiront le nombre des étrangers francophones. Si vous croyez que vous seriez admissible au programme Mobilité francophone avec ces nouvelles modifications, veuillez nous contacter.