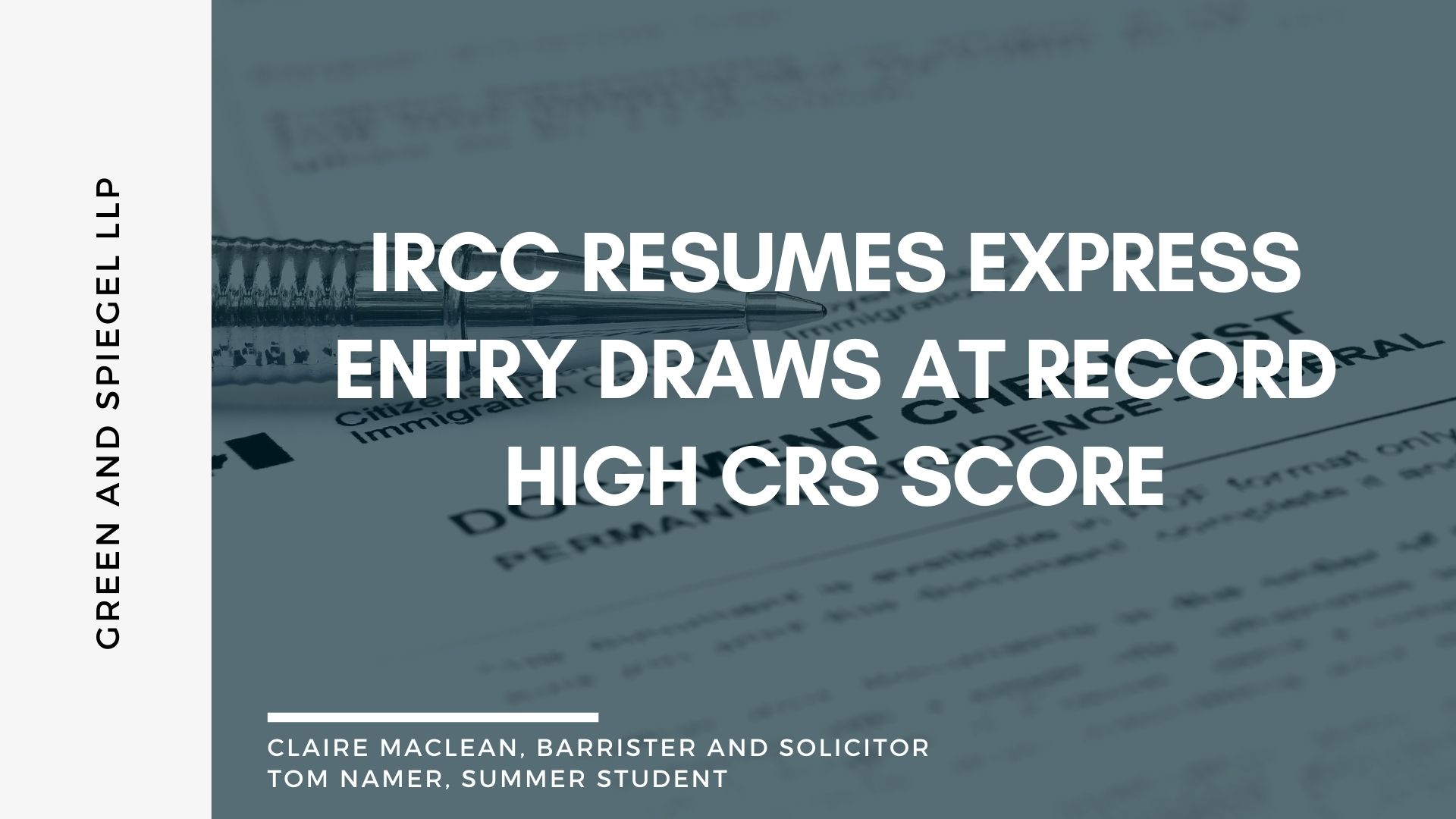 On July 6, 2022, Immigration, Refugees and Citizenship Canada (IRCC) conducted the Express Entry system's first non-Provincial Nominee Program-specific draw since September 14, 2021. In today's draw, 1,500 candidates with a Comprehensive Ranking System (CRS) score of at least 557 were invited to apply for permanent residency, regardless of their qualifying program. With the exception of a limited number of Federal Skilled Trades draws, program-specific draws had not been seen since the Express Entry system's launch in 2015. During the COVID-19 pandemic, however, IRCC released CEC and PNP-specific draws as a strategy to target the issuance of invitations to apply (ITA) to candidates more likely to already be in Canada. As a result, candidates under the Federal Skilled Worker program have not been eligible to receive an invitation to apply since December 23, 2020.
This pause led to an accumulation of high-ranking candidates in the Express Entry pool, with more than 8,000 candidates scoring between 500-600 CRS points and another 4,200 scoring between 491-500. While traditionally these candidates would have received an ITA quickly, they were left awaiting the resumption of general draws or looking for other, non-Express Entry options to immigrate to Canada. Based on today's high CRS cut-off score, recipients of an ITA under the 225th draw would be required to hold at least one year of Canadian work experience or qualify for job offer points in a senior managerial or executive-level role. Based on the relatively low number of ITAs issued, we expect that future draws may bring a drop in the CRS cut-off score, inviting a broader group of applicants to apply for Canadian permanent residency.
While the pause on general draws enabled IRCC to reduce its backlog and decrease processing times, which are targeted to revert to IRCC's regular standard of 6 months by the end of 2022, it also led to a lack of predictability regarding candidates' ability to obtain permanent residency. While IRCC has not confirmed whether today's draw marks the end of the pause, or whether the department will more frequently leverage program and occupation-specific draws over the coming months, it is important for those candidates who remain in the pool to review their profiles, ensure all information remains up to date, and make efforts to renew any documents expiring within the next few months.
Overall, today's draw represents a highly anticipated step toward achieving Canada's future permanent resident goals, as well as many foreign nationals' aspirations to become permanent residents of Canada. While future selection mechanisms for permanent resident candidates are not expected to remain stagnant, for now, Canada's innovative Express Entry system has resumed operations giving both foreign and domestic candidates renewed hope for immigrating to Canada.
For more information regarding the Express Entry system, permanent residence, or provincial nominations, please contact us directly.