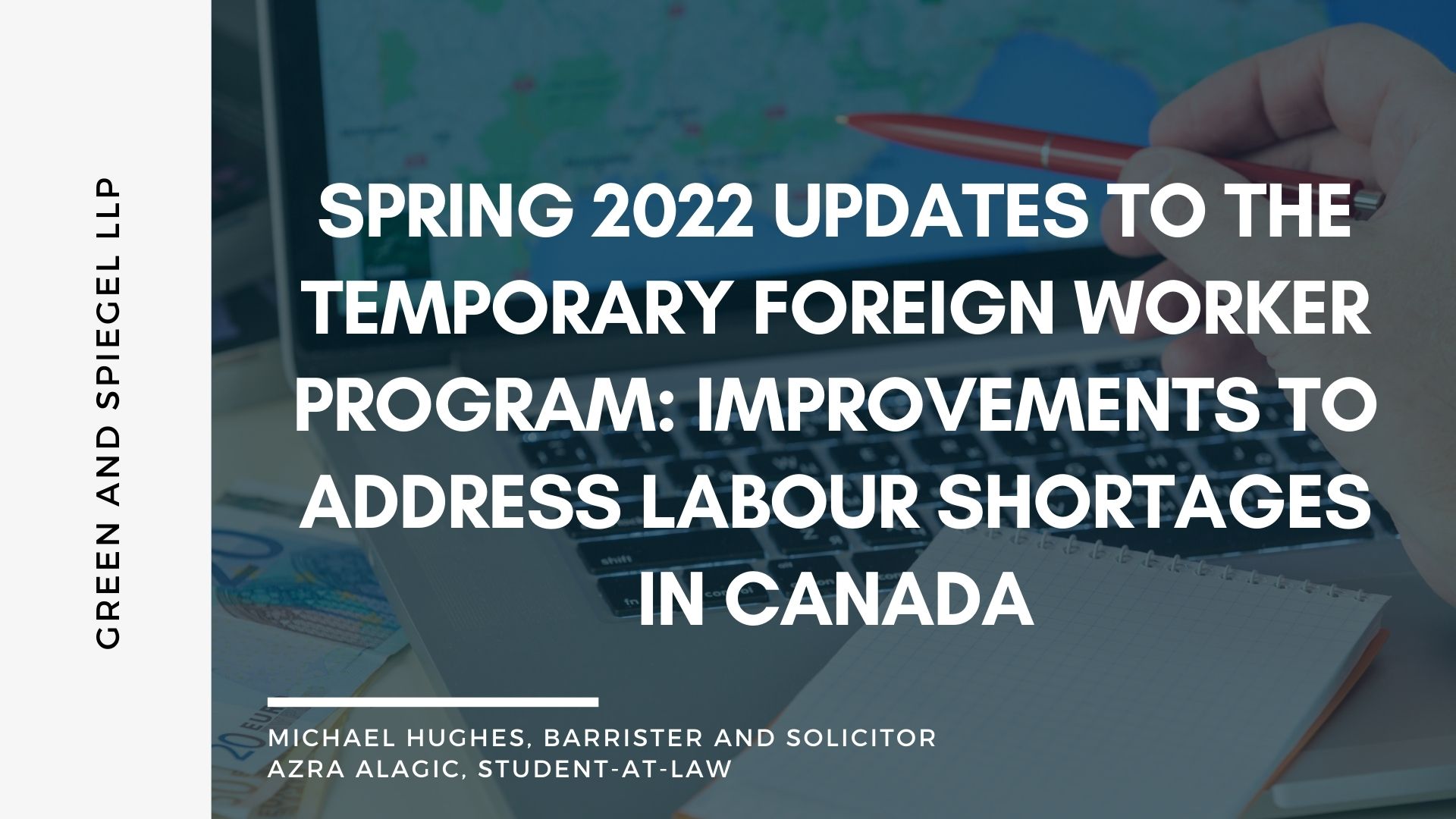 The Temporary Foreign Worker (TFW) Program allows employers in Canada to hire foreign workers when Canadians or permanent residents are not available. The TFWP involves an employer in Canada making an application to Employment and Social Development Canada (ESDC)/Service Canada for a Labour Market Impact Assessment (LMIA). If ESDC/Service Canada determines that the hiring of a foreign worker will have a neutral or positive impact on the Canadian labour market, a positive LMIA may be issued to the employer, which a foreign national can then use in support of their application to work in Canada. 
Businesses in Canada are becoming increasingly reliant on the TFW Program as a result of country and industry-wide labour shortages which continue to worsen as the Canadian economy recovers from the COVID-19 pandemic. The job vacancy rate reached a historic peak in the 3rd quarter of 2021, and labour shortages are primarily in low-wage occupations and, according to Statistics Canada, in November 2021 the following sectors were facing the highest number of vacancies:
Accommodation and Food Services – 130,070 vacancies

Health Care and Social Assistance – 119,590 vacancies

Retail Trade – 103,990 vacancies

Manufacturing – 81,775 vacancies
On April 4, 2022, the Minister of Employment, Workforce Development and Disability Inclusion, Carla Qualtrough, announced the TFW Program Workforce Solutions Road Map. Specific changes to the TFW Program were implemented immediately, and others as of April 30, 2022. 
The initiative is to address Canada's labour market needs by improving the TFW program, including addressing labour shortages, enhancing worker protections and building a stronger workforce, including through pathways for temporary foreign workers to permanent residency. 
In 2020, temporary foreign workers made up less than 0.4% of the Canadian workforce. Five key policy changes have now been implemented as part of the TFW Program Workforce Solutions Road Map to respond to current labour and skills shortages:
To address seasonal peaks, there is no longer a limit to the number of low-wage positions that employers in seasonal industries, such as fish and seafood processing, can fill through the TFW Program. This makes permanent the Seasonal Cap Exemption that has been in place since 2015. In addition, the maximum duration of these positions will be increased from 180 days to 270 days per year.

LMIAs will be valid for 18 months, an increase from 9 months. Prior to COVID-19, LMIAs were valid for 6 months only. This means foreign nationals now have an 18-month period to use a positive LMIA to apply for a work permit. 

The maximum duration of employment for High-Wage and Global Talent Streams workers is now extended from two (2) years to three (3) years. This extension will help workers access pathways to qualify for permanent residency, enabling them to contribute to Canada's workforce for the long-term. Similarly, this change will allow businesses in Canada to plan their workforce for a longer term.

For seven sectors with demonstrated labour shortages, including accommodation and food services, hospitals, and nursing and residential care facilities, employers are able to hire up to 30% of their workforce through the TFW Program for low-wage positions for one year. All other employers will be allowed to hire up to 20% of their workforce through the TFW Program for low-wage positions until further notice, an increase from the former 10% cap for many employers.

The previous policy where ESDC/Service Canada refused to process LMIA applications for low-wage occupations in the accommodation and food services and retail trade sectors in regions with an unemployment rate of 6% or higher has ended.
With this initiative and the Government's ongoing work, its goal is to create a better and stronger workforce in Canada given unprecedented labour shortages as the Canadian economy continues to recover from the COVID-19 pandemic. The updates to the TFW Program now in effect are positive for businesses in Canada and temporary foreign workers alike. 
Please contact us if you are interested in hiring a temporary foreign worker or to see if you may be eligible to apply to work in Canada as a temporary foreign worker.