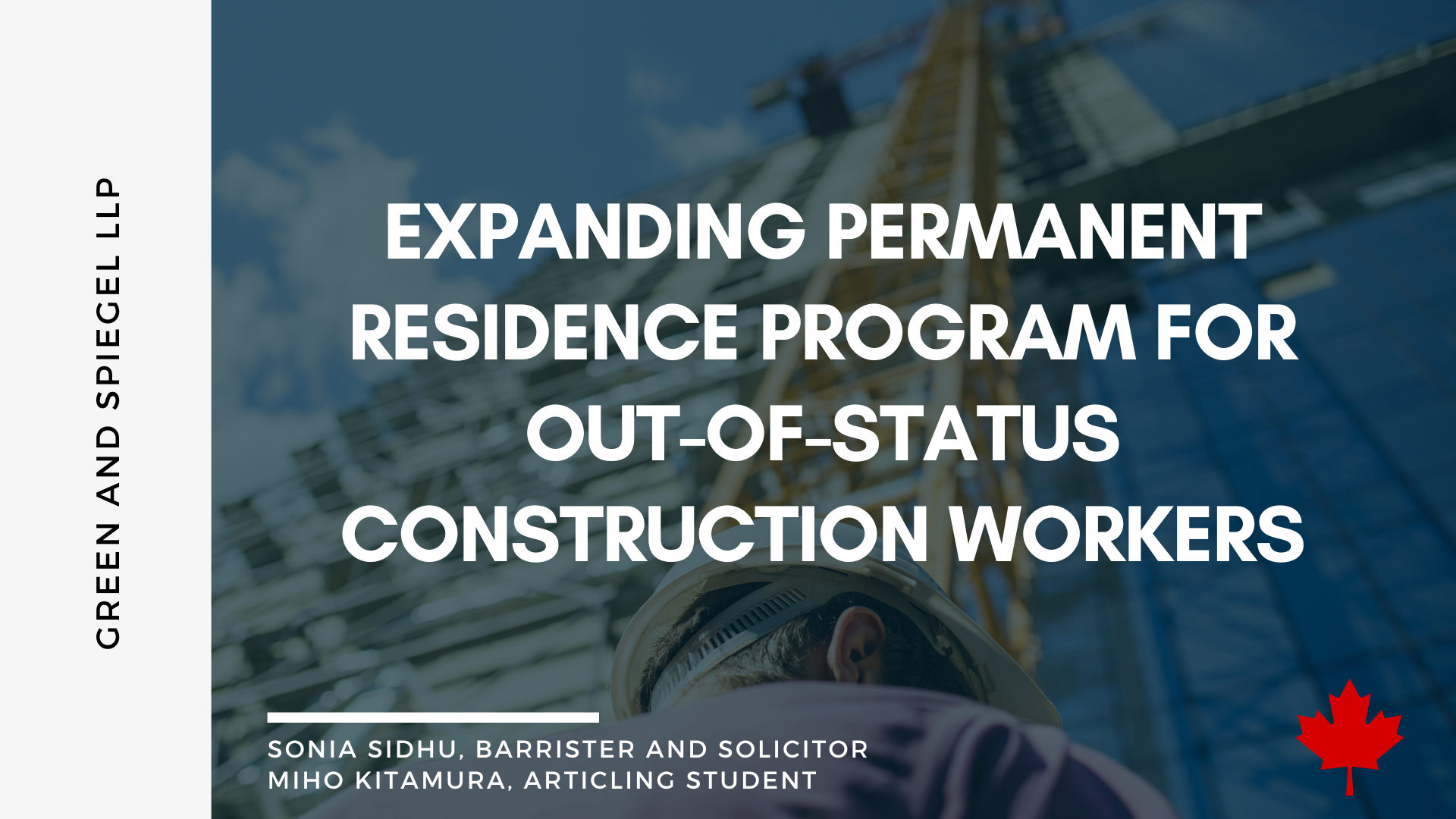 On January 20, 2023, it was announced that Immigration, Refugees and Citizenship Canada ("IRCC") is extending and expanding the permanent residence pilot program for out-of-status construction workers, doubling its scope to 1,000 out-of-status construction workers in the Greater Toronto Area (which include the City of Toronto, Durham Region, Halton Region, Peel Region, and York Region).
Potential applicants can submit their names to the Canadian Labour Congress ("CLC"), who will determine their eligibility. Individuals eligible for this program can apply for permanent residence and can include their spouses, partners, and dependent children in their application.
Public policy considerations:
The construction industry faces significant labour shortages, and this program acknowledges the important role that construction workers have in building and growing our communities. Many undocumented construction workers may be unaware of their employment rights, and may not benefit from workplace regulations, rendering them vulnerable. This program offers undocumented workers and their families a path to permanent residency so that they can stay in Canada for the long-term. This is just one out of a number of new measures implemented by the Canadian government to address labour shortages in Canada.
Eligible individuals include those who:  
 legally entered Canada as a temporary resident;
has continuously resided in Canada for at least 5 years on the date of the application;
at the time of their eligibility assessment by the CLC, is working without authorization in the construction industry and can provide evidence of 3 years of full-time experience in the past 5 years in construction in the GTA;
has family living in Canada who is a Canadian citizen or permanent resident, or has a spouse, common-law partner or child in Canada;
has a referral letter signed by CLC; and
is not inadmissible to Canada other than due to the individual or a family member overstaying their temporary resident status and working without authorization.
 End date:
This public policy will end on January 2, 2024 or until 1,000 principal applicants have been granted permanent residence, whichever comes first.
If you are interested in learning more about this program or would like to apply for permanent residence, please contact us to schedule a consultation.