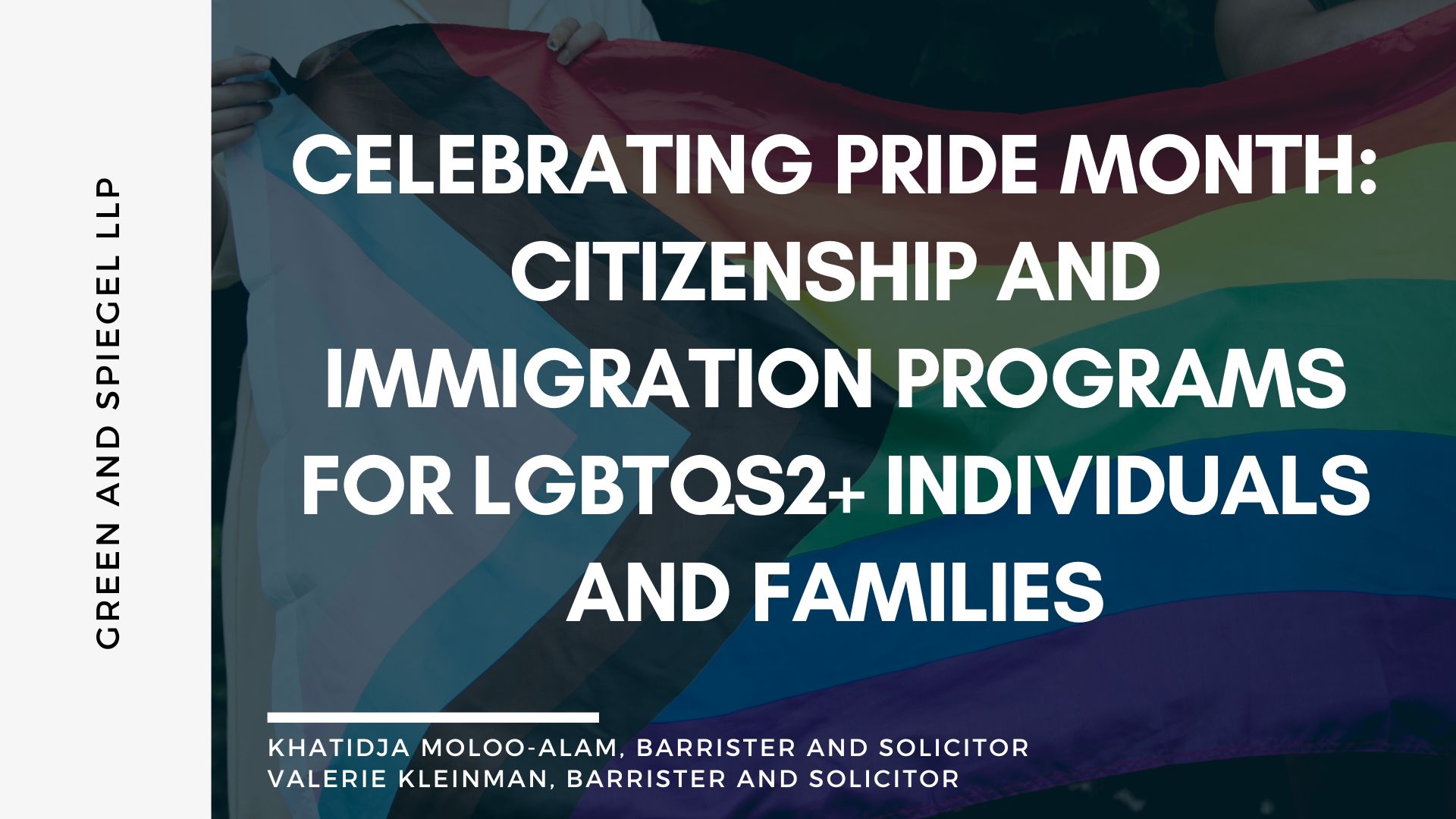 At Green and Spiegel LLP, we help individuals and families from all over the world apply for Canadian temporary residence, permanent residence, and citizenship. Our lawyers know that no two immigration applications are the same, and we recognize the special consideration and care that must go into assessing the unique circumstances of our clients.
As we reflect back on the last month celebrating Pride and its significance, we wanted to highlight some of the processes that are used by our team of lawyers to support the LGBTQS2+ community.
Family Class Applications – Sponsoring a Spouse, Common-Law Partner or Conjugal Partner
Under Canadian immigration law, there is no distinction between same-sex and opposite-sex couples. Both may utilize the Family Class to support their family's reunification, no matter the sexual orientation of its members.  
This stream within the Family Class helps couples reunite or in some cases, remain together in Canada. There are both overseas and in-land categories. A spouse is defined as a legally married partner. A common-law partner has resided with their partner with whom they share a conjugal relationship for at least 12 consecutive months. It is more difficult to prove that an applicant meets the definition of a conjugal partner. This category may apply to a couple who have been together for at least a year but cannot be legally married or in a common-law relationship due to specific compelling reasons. This could include, for example, a couple that reside in a country where they may not marry a partner of the same sex and where they may not openly be in a same-sex relationship.
If applying through the overseas category, the applicant seeking to immigrate is generally outside of Canada. Their spouse may be outside of Canada with them if they are a Canadian citizen who has an intention of returning to Canada. Permanent Residents must reside in Canada in order to sponsor a spouse, common-law partner or conjugal partner.
If the couple is residing together in Canada, for example, in a situation where the applicant is working in Canada on a work permit, an in-land process can be available for both spouses and common-law partners. Under this category, there is also an option for the applicant to obtain a work permit if they qualify.
Refugee Claims
Canada has a process by which, if you are facing persecution, violence, or threats in your home country, because you are or are perceived to be a member of the LGBTQS2+ community, you can request that Canada provide surrogate protection to you and your family members. The process by which you can request that Canada protects you from persecution in your home country, on the grounds of sexual orientation, gender identity, gender expression, and/or HIV status, is by making a refugee claim. We recognize how important it is that you feel comfortable sharing sensitive and personal information about your life, and we can help you tell your story in your own words when starting your claim. Our talented litigation team can represent you at your hearing before the Immigration and Refugee Board, Refugee Protection Division. If you have already made your claim, and it has been refused, our team can help you challenge the refusal of your refugee claim to the Refugee Appeal Division and/or the Federal Court of Canada.
Citizenship
Under most circumstances, individuals born in Canada are Canadian citizens. In many cases, people acquire citizenship after becoming permanent residents and meeting certain requirements.
Minor children who are adopted by a Canadian/Canadian citizens may be entitled to a direct path to citizenship instead of first becoming permanent residents.
Alternatively, Canada's citizenship laws allow a Canadian citizen parent to pass on their citizenship to their child if the child is the first generation born outside of Canada. Previously, only a biological parent could pass on their citizenship to their child. Modifications were made 2 years ago which now allow a non-biological Canadian parent who was the child's legal parent at the time of their birth to pass on their citizenship. An application for a Proof of Citizenship Certificate is usually the first step toward the child obtaining their Canadian passport.
No matter how you identify, or who you love, Green and Spiegel LLP will work hard to listen to your story and help you navigate the Canadian immigration system with dignity and respect. There are many options available to protect the rights of individuals who identify as LGBTQS2 and to keep LGBTQS2 families together. Please reach out to us if you would like our help in navigating these and other processes that are important to your or your family's future in Canada!